HIGH
QUALITY
WINDOWS &
DOORS
Elegant Mayo 'longhouse' gets A1 rating
The home of a local passive house builder, this super low energy home in County Mayo is inspired by traditional building forms in the west of Ireland — and it blitzed Ireland's nearly zero energy building standard a whole five years before it was set to become mandatory.
Building: 249 sqm externally insulated blockwork house
Location: Castlebar, Co Mayo
Completed: April 2016
Standard: Nearly zero energy building (nZEB)
€22 per month (space heating & water
The 'longhouse' is one of the oldest and most enduring design templates for one-off dwellings in Europe, but also one of the simplest in terms of its shape, making it a highly suitable form for passive house builds.
Situated in Castlebar, Co Mayo, this modern two-storey take on the longhouse form is being showcased by its owner, local builder Sean Walsh, as a traditional- yet-contemporary nearly zero energy home that adheres to many of the principles of passive house design (while not being certified itself).
The house boasts a superb energy performance coefficient (EPC) of 0.098, smashing the figure of 0.3 that Irish dwellings must meet from 2021 onwards to meet the nearly zero energy building (nZEB) standard. And with its six square metre solar photovoltaic array, the house also achieves a coveted A1 building energy rating.
This article was originally published in issue 27 of Passive House Plus magazine. Want immediate access to all back issues and exclusive extra content? Click here to subscribe for as little as €10, or click here to receive the next issue free of charge
Design-wise, the finished result is a slight variation on the simpler longhouse form initially proposed by architect Michael Horan of Castlebar-based Axo Architects.
Horan says it was common in the vernacular architecture of the West of Ireland for slightly more affluent folks to build an initial family house of one-and-a-half storeys, and as the family grew, to build on a bit more and then a bit more so that the house became longer and longer but remained the same height and width.
The longhouse shape, as it turns out, is also ideal for adding extra accommodation on a budget, but without complicating the essential shape or layout of the house. "We built the building one room deep, but we stretched the length of the house so it kind of gains a bit of elegance," Horan says.
Walsh says the initial drawings incorporated stone cladding on certain aspects of the house, but he ultimately decided against these on cost grounds.
However, Mayo County Council's planning department then asked for the revised design to be broken up into two volumes of different heights and colour, and with some changes to the window configurations.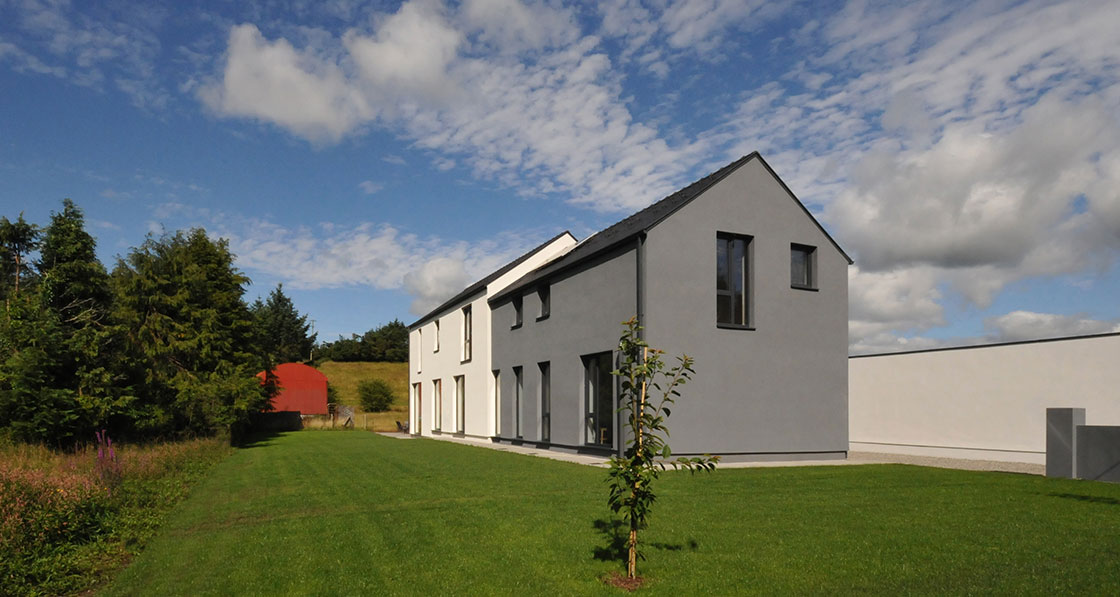 To some eyes, a 250 square metre house with this footprint, minus the stone, might have looked a bit too plain or too modern but, whatever your view, the final result is hugely appealing for its essential simplicity and elegance.
"You need to keep the design simple," Walsh says regarding building to passive house principles. And he would know. Along with experienced local energy consultant Paul Roberts, Walsh is one half of the partnership behind New Era Homes, a recently established building contractor specialising in passive house builds.
It was the prospect of building this home that prompted the pair to set up New Era Homes. "We were also very conscious of the fact that, as our inaugural build, there were many eyes on us," says Walsh, who also runs ventilation and airtightness specialist S&N Energies together with his brother Noel.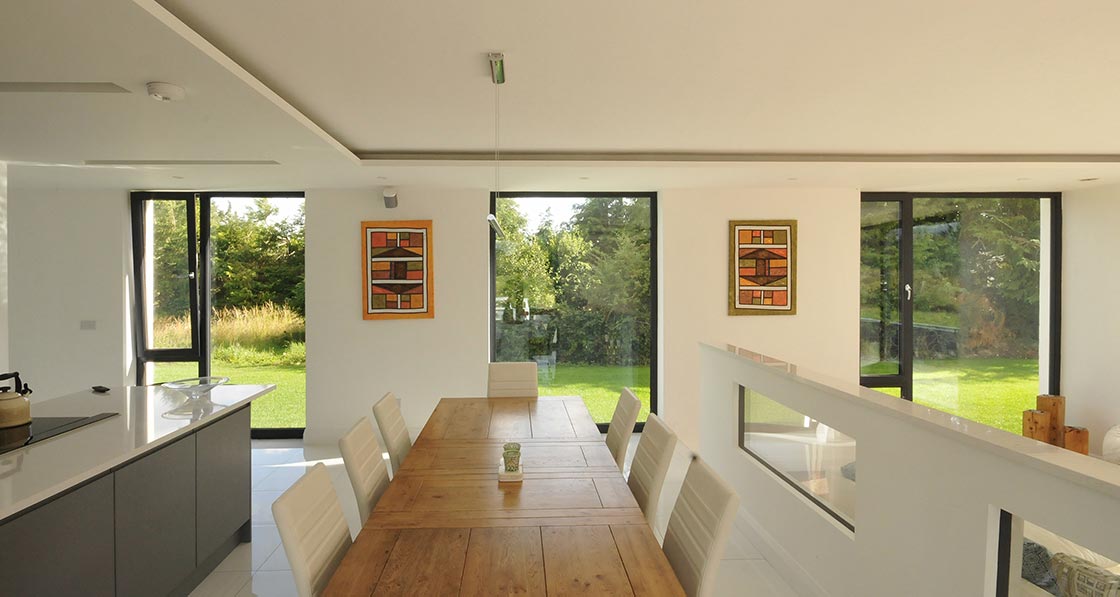 The final result is still hugely appealing for its essential simplicity and elegance.
But he is also keen to underline that there is now minimal cost difference between building a house to this standard compared to current Irish building regulations, or to upcoming nZEB standards.
The budget for this build was €300,000 plus VAT — but the final cost ultimately came in at €274,000, though naturally Walsh put in a lot of work himself that wasn't costed.
"A regular build, by comparison, would have cost the same," he says.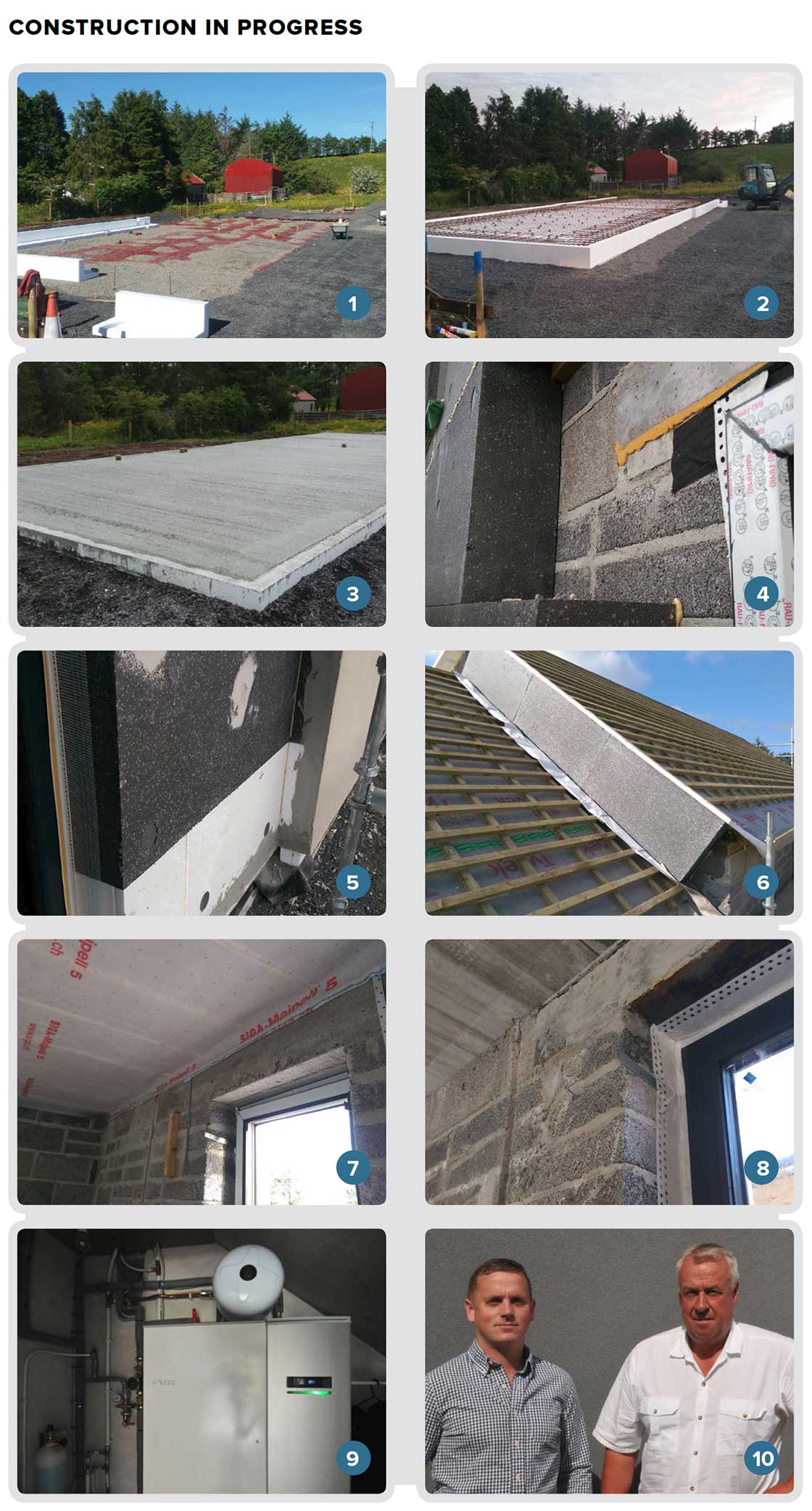 1 Installation of the Kingspan Aeroground insulated foundation system; 2 this is followed by a reinforced steel mesh; 3 and a concrete raft poured into the insulation. 4 200mm EPS external wall insulation being installed; 5 the Atlas Aval external render bring applied; 6 DuPont Tyvek Supro roofing underlay, plus external insulation strip between the low and high roofs; 7 airtightness membrane on ceiling and overlapping onto external walls; 8 airtightness taping around windows; 9 the Nibe ground source heat pump supplies underfloor heating and a 180 litre hot water tank; 10 Paul Roberts and homeowner Sean Walsh, co-founders of main contractors New Era Homes.
Working closely with Cathal Brady of energy consultants BEC, the design team devised a specification aimed at keeping the cost versus benefit considerations close to the fore. "We knew that Sean and Paul would be capable of delivering on site," says Horan, who has commissioned Sean to work on several of his firm's other projects.
The build method is a variation on the popular block-on-the-flat system, with 200mm EPS external wall insulation, a Kingspan Aeroground insulated raft foundation, and an insulated pitched-and-slated roof.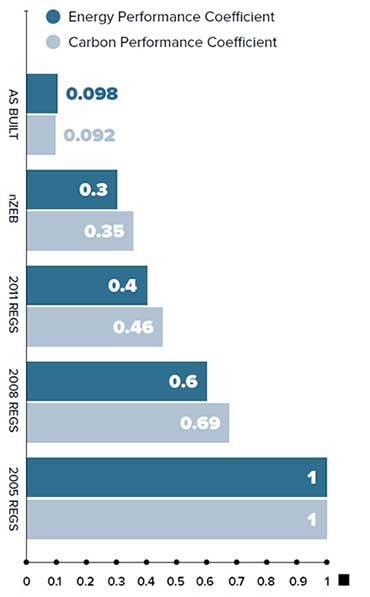 "The insulated raft and external insulation were key to achieving close to zero thermal bridging, which is a key passive design component," says Horan.
The windows are triple glazed Rehau Geneo units made from the company's 'Rau-Fipro' material, a combination of uPVC and fibreglass, while also contributing to the impressive EPC score is the Nibe ground source heat pump, Vent-Axia heat recovery ventilation system and a 6 sqm solar PV array.
There were no major challenges or issues reported during construction, although Walsh admits that getting airtightness up to the high standard set for the build was trickier than usual but, as always, attention to detail and discipline within the trades was the key. The finished house scored an excellent airtightness test score of 0.79 ACH @50 Pa, just a fraction short of the passive house target.
Even though New Era Homes pitches itself as a passive house contractor, Walsh made a deliberate decision not to seek certification to save on the cost, though he's happy to offer certification as an option to his clients.
"It's a personal choice," says Walsh. "I don't see the necessity to do that…. because I know that the houses that we've built, all of the standards are there. I just don't see the necessity to spend six or seven thousand euro to get someone to rubber-stamp what we can back up anyway. So, it's something that if someone wants it, we'll do it, but no one has asked us to do it to be honest."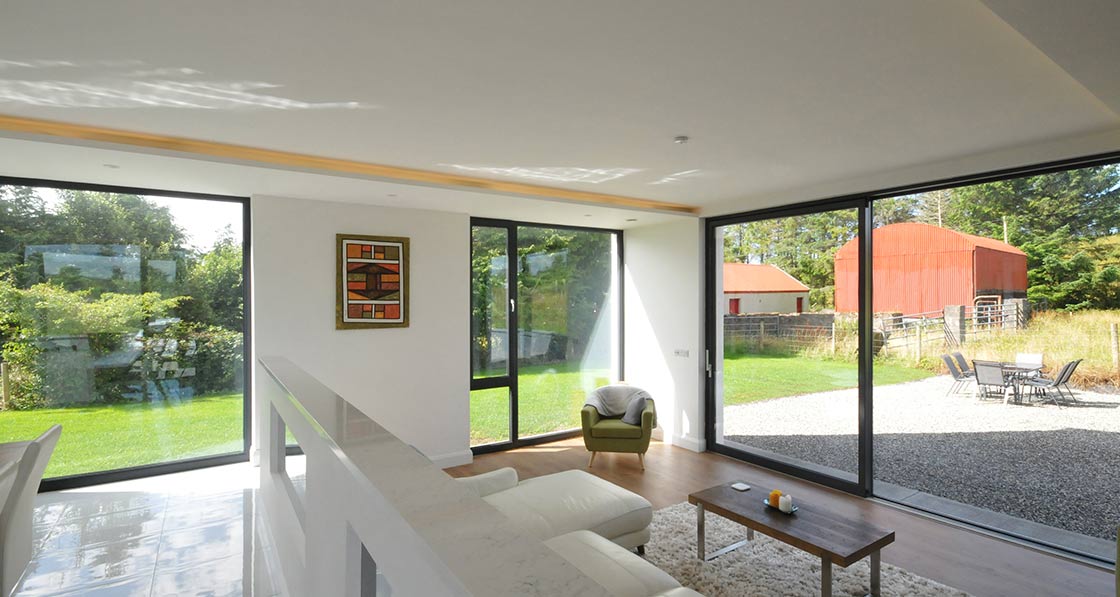 We were also very conscious of the fact that, as our inaugural build, there were many eyes on us.
This possibly reflects a growing understanding — even a slow mainstreaming — of passive house design principles in this country. While the earliest adopters might have seen the benefit of passive house certification for absolute credibility, perhaps certification will become less coveted as nZEB becomes the norm and fabric-first principles of passive house design start to trickle more and more into the mainstream.
As well as the elegant design of Walsh's home, there are also some nice touches to its orientation, which is bordered to the south and west by a row of trees and a red agricultural shed, creating a garden courtyard.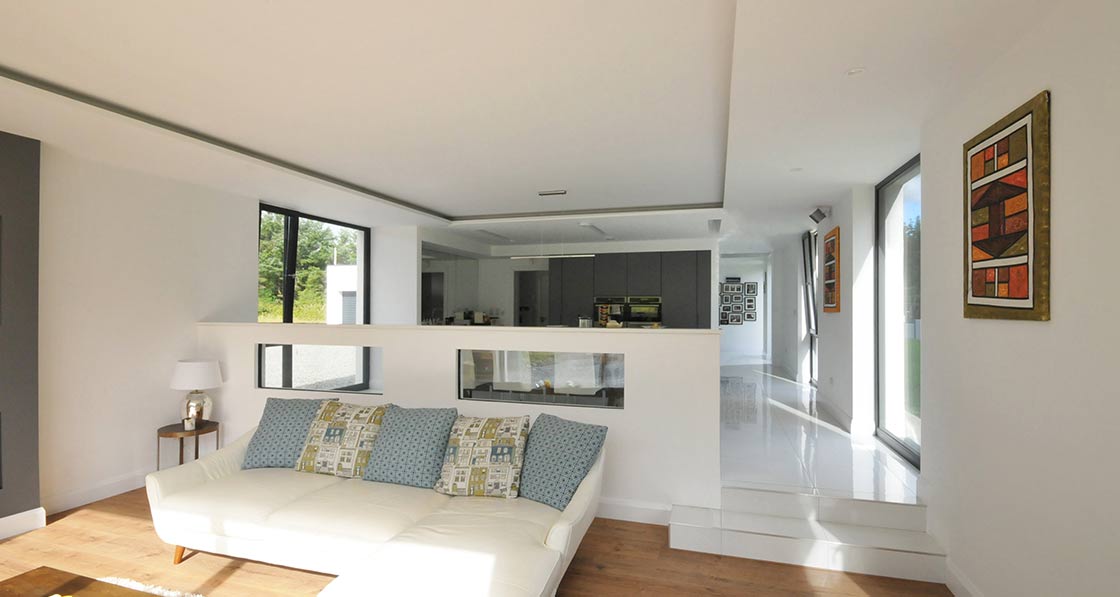 Horan was also keen to site the house as close as possible to the roadside, as is traditional in the west of Ireland, by placing the east gable perpendicular to the road.
"An awful lot of the modern bungalows now step way back and they have to put up these huge walls in front of the garden and put these big entrance gates and the message is kind of like, 'this is our fortress, don't come in, we don't want any visitors'," says Horan.
But thanks to this clever orientation, the house still manages to be very private, says Walsh — to the point where they felt no need to fit blinds, even to the largest windows.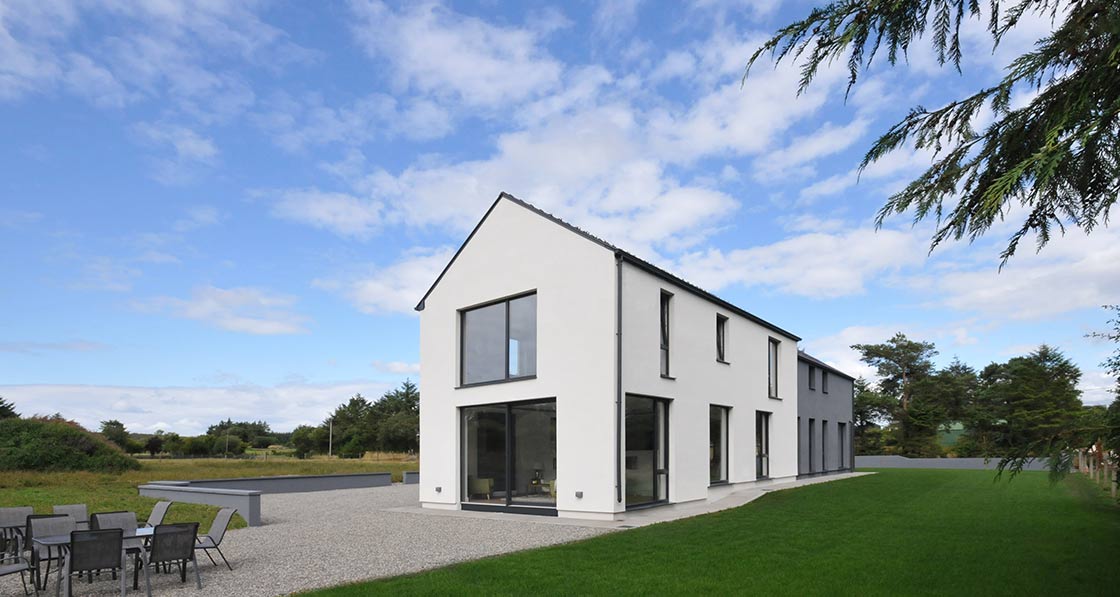 Mercifully, in spite of the lack of shading or overhangs, Walsh reports that the building wasn't uncomfortably hot during this summer's prolonged heatwave – a fact he credits to a combination of window opening for cross ventilation and the buildings externally insulated thermal mass.
Since moving in, the strongest impressions for Walsh and his family include the outstanding comfort levels and the low-maintenance. "When you arrive in the door after work, on a cold winter's night, the house almost welcomes you in and wraps itself around you. We don't have to consider doing anything from a heating point of view and so we have more quality time to spend with each other doing the things we enjoy."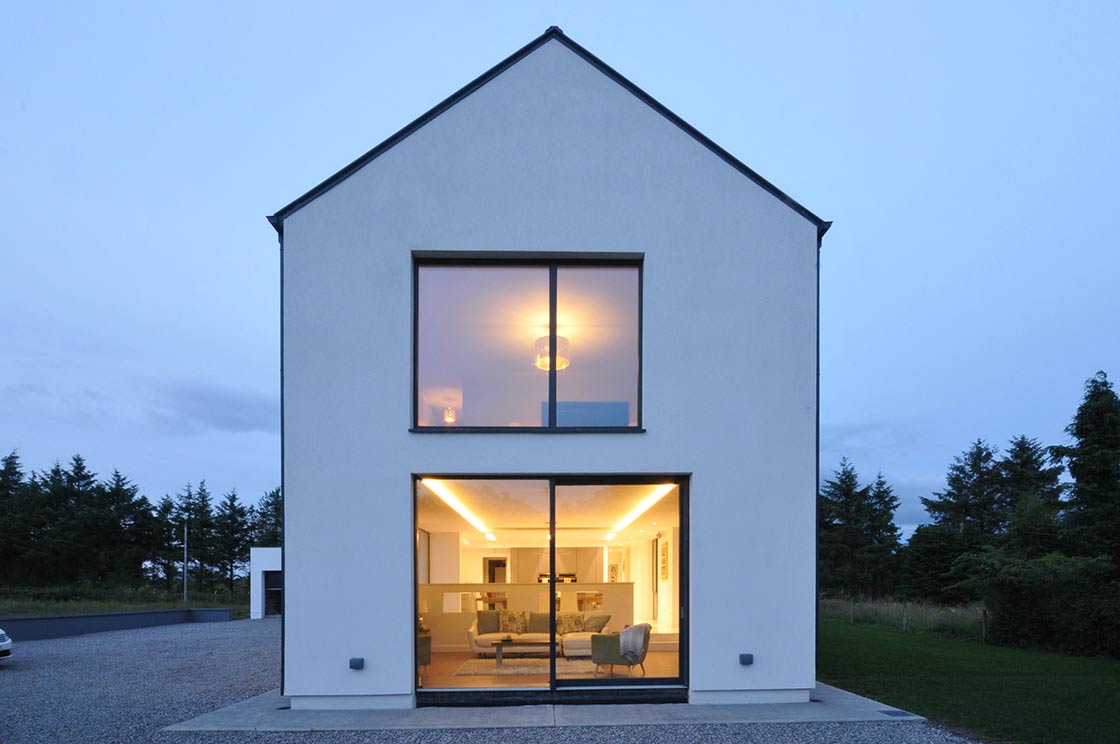 SELECTED PROJECT DETAILS
Client: Sean Walsh
Architect: Michael Horan and Seamus Lunn of Axo Architects
Project architect: Aidan Conway
Main contractor: New Era homes
Energy consultant: BEC (Building Energy Consultants)
Electrical contractor: James Heneghan Plumbing & Electrical
Structural engineer: CHH Structural Engineers
Passive raft design: Tanner Structural Design
Passive raft supplier: Kingspan
External wall insulation: Costello Insulation & Construction
Airtightness products: Siga
Insulated plasterboard: Quinn Building Products
Windows & doors: Rehau, via Carrabine Joinery
Heat pump: Unipipe
Heat pump & PV installation: Alex Byrne
MVHR: S&N Energies
Lighting: Flaherty Markets
Sanitaryware: Hurst Heating & Plumbing
Wastewater treatment system: Biocell
Airtightness test: BEC (Building Energy Consultants)
Carpentry & roofing: Canavan Carpentry
Kitchen: Gurteen Kitchens
Screed: Harrington Concrete
IN DETAIL
Building type: Detached two-storey house, 249 square metre total floor area, block-onflat walls with external insulation.
Location: Derrycoosh, Castlebar, County Mayo.
Completion date: April 2016
Budget: €300,000
Passive house certification: Not certified or assessed in PHPP
Building Energy Rating: A1 (13.84 kWh/m2/yr)
Energy performance coefficient (EPC): 0.098
Carbon performance coefficient (CPC): 0.092
Airtightness (at 50 Pascals): 0.79 ACH or 0.93 m3/m2/hr
Heat loss form factor: 2.8 (ratio of house volume to total floor area in DEAP)
Measured energy consumption: 3,606 kWh per year (a net figure for all energy use).
Energy bills: The heat pump consumes 1,417 kWh per year for space heating and 445 kWh per year for hot water (the rest of domestic hot water is heated directly by the solar PV). Dividing these equally between day and night rate electricity gives a total estimated annual cost for space heating of €184.17 per year and €80.10 for hot water, not including standing charges or VAT. Divided over the year, this comes to €22.03 per month.
Ground floor: 350mm Kingspan Aeroground insulated foundation system, with concrete raft and insulated screed for underfloor heating. U-value: 0.090 W/m2K.
Walls: Atlas Aval external render on 200mm EPS insulation, on 215mm concrete block-on-flat single leaf construction with 15mm internal render. U-value: 0.13 W/m2K.
Roof: Natural slates externally, on 35x45mm slating battens and counter battens, on DuPont Tyvek Supro underlay, on timber rafters insulated with 300mm Isover Metac roll insulation, on Siga airtightness membrane and tapes, on 50mm uninsulated service cavity, QuinnTherm 50mm insulated plasterboard to underside. U-value: 0.11 W/m2K.
Windows: Rehau Geneo windows using Rau-Fipro material, triple glazed with argon filling and an overall U-value of 0.6 W/m2K.
Heating system: Nibe Fighter 1245 5kW ground source heat pump supplying underfloor heating and 180 litre hot water tank.
Ventilation: Vent-Axia Lo-Carbon Sentinel Kinetic Plus MVHR with EN 308 certified efficiency of 92%.
Electricity: 6m2 solar photovoltaic array with average annual output of 2,835 kWh/yr.
Green materials: Hemihydrate floor screed.